Detroit URC Board Partner Spotlight: An Interview with Richard Bryce, DO, Chief Medical Officer at Community Health and Social Services Center, Inc.
*This interview was conducted in October 2019.
In this issue we feature the dynamic and engaging Dr. Richard Bryce D.O., a family physician and chief medical officer at the Community Health and Social Services Center, Inc. (CHASS), a federally qualified health center, in Southwest Detroit, Michigan. Richard is also clinical faculty at Michigan State University College of Osteopathic Medicine, Wayne State University School of Medicine and the Henry Ford Health System.
His passion is to promote and motivate his patients to pursue a healthy lifestyle. To that end, he has started a number of initiatives through CHASS, including the CHASS Mexicantown 5K Run/Walk and Children's Race, both of which improve exposure to exercise within the Detroit community. He has also been instrumental in facilitating the Fresh Prescription program at the CHASS Center, where he and other providers prescribe fresh fruits and vegetables to their patients from the clinic based Farmer's Market with the goal of increasing consumption of these foods. Richard also initiated CHASS's Reach Out and Read partnership, which provides pediatric patients with a free book at each well child visit.
Additionally, he is the Faculty Advisor for Street Medicine Detroit and Detroit Street Care, student organizations affiliated with Wayne State University School of Medicine and Michigan State University College of Osteopathic Medicine. These programs provide medical care to Detroit's homeless population.
Richard took some time away from his many duties to talk about his involvement with the Detroit URC.
How did you first get involved with the Detroit URC?
I've been working at CHASS for 7 years. CHASS has always had a strong relationship with the Detroit URC. About 2 ½ years ago, when Ricardo Guzman retired and I became the chief medical officer, I was fortunate enough to be asked to participate with the Detroit URC.
How has the Detroit URC helped you advance the CHASS mission?
The mission of CHASS is finding any way that we can support and improve the health of the patient population in our community. Fortunately, that matches very closely to the mission of the Detroit URC, with its emphasis on community-based participatory research. If CHASS can use something like CBPR to make an impact on our community, then we are just going to go forward with that. And that's why we have had such a long and pretty awesome relationship.
Are there other ways in which your partnership with the Detroit URC is helpful for you and/or CHASS?
Through the Detroit URC or the connections that the Detroit URC has been able to bring to us, we have created some amazing relationships in different areas of CBPR. These relationships have been beneficial to CHASS and to the community. There have been so many incredible opportunities!
What do you gain from serving on the Board?
It is great that there are a lot of diverse people on the board, both from the academic side and from the community side, and they all seem to have one common goal. I think learning from how others have tried to do things in the past to try to improve what we're doing at CHASS has been pretty remarkable.
What initiatives are you currently working on?
We have a few right now, specifically related to the Detroit URC. One of our projects is called "ELLAS." (Environment, Leiomyomas, Latinas and Adiposity Study, an R01 funded by the National Institutes of Health) ELLAS is looking at reproductive challenges in Latino women that are of reproductive age. You have to understand that there's not much data at all based on this demographic. Most of this large research study has been taking place at CHASS, which has just been great. Erica Marsh, Associate Professor of Obstetrics and Gynecology and Division Chief, Reproductive Endocrinology and Infertility at the University of Michigan (U-M), is the principal investigator on that project.
We also have one called "Mi Pais". The principal investigator on this project is Paul Fleming, Assistant Professor of Health Behavior and Health Education, U-M School of Public Health. That is another relationship that we established through the Detroit URC. This project is based on understanding the effect of immigration stress and how this stress influences one's health.
We have a third project, working with principal investigator, Julia Wolfson, Assistant Professor of Health Management and Policy and Assistant Professor of Nutritional Sciences, U-M School of Public Health. She's been looking at instituting cooking classes at CHASS. This project started with a Detroit URC-Poverty Solutions community-academic pilot grant, similar to Paul's project. We have been able to do some focus groups and we actually just finished four cooking classes that were designed around patients' needs. The classes have all been great and now we are working with Julia to try to figure out the next steps.
The last project is the "Fam-ACT". This project is working with Gloria Palmisano, Program Manager at CHASS, who has been working for a long time to try to understand diabetes in communities similar to CHASS. The goal is not only to educate patients on how to improve their diabetes, but also to teach their family members and other people that they are close with how to improve diabetes. We're hoping that these secondary support members, who they see every day, will be able to make an impact on improving their blood sugars over a long time.
You engage with community members outside the clinic (at community walking events, bubble run events, cooking classes, fresh produce markets, etc.) much more than a typical physician. What motivates you to engage with your patients in so many different realms?
I find it very motivating to work in a place like CHASS or work with an organization like the Detroit URC -- places where there's a lot of people that want to help others. It gives me great satisfaction to be able to make an impact. And then what ends up happening is that once you show that you're willing to be dedicated to some of these programs or causes, then that just opens up more doors to other programs and other ways to make an impact on our patients. I don't do a very good job of saying "no", but at the same time, I really believe in all of the things that I'm doing. I think that they are making a huge impact. It makes it easier. Even though when you're staying busy and you have a limited amount of time, you just seem to find a way to allow those programs and that work to continue on because you know it's going to make a difference in the end.
Do you have a favorite story or two about working with your patients outside of a clinic setting that you could share?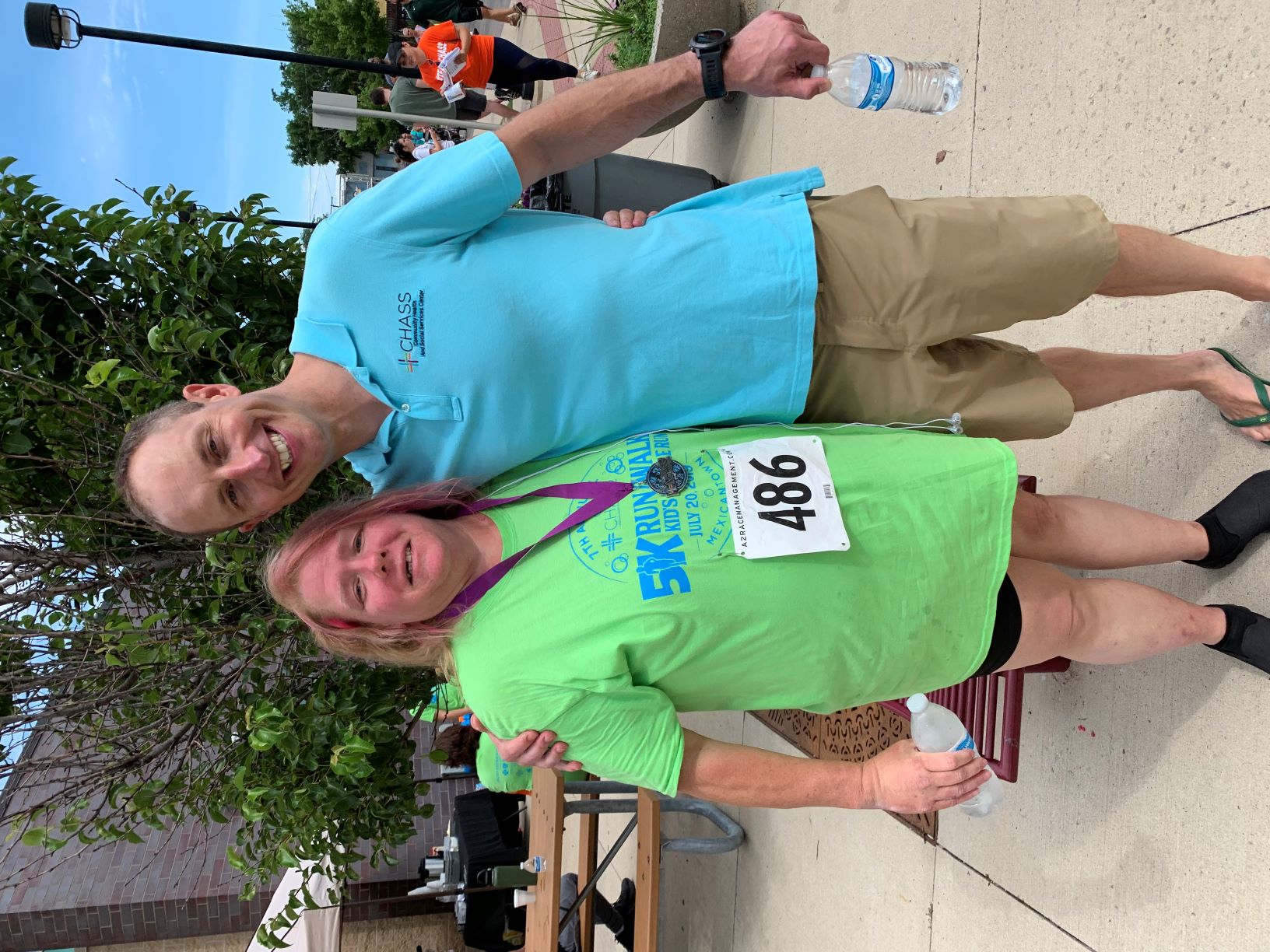 There was an article in the Washington Post a few months ago. This article described a patient, who had a couple of heart attacks, lost her job, wasn't able to get disability, and then ends up getting a really bad skin infection and needed to be in the hospital for 2-3 weeks. And the problem with that was that her hospital bill turned out to be $132,000. Fortunately, that was exactly the same time that the Affordable Care Act and medicaid expansion started to occur. That new ability to get insurance made an impact so that she could pay for the hospital bill. Fortunately, I've been able to see her and she has just made a dramatic change in her life. She was a smoker at one point, but she stopped smoking. She was a diabetic, but she was able to get her diabetes under control. She was obese, but in the last 6 months, she's lost 60 pounds. She is really taking control of her health and it's been really amazing!
The story in the Washington Post talks about her doing the CHASS 5K and that was pretty special. At that event, she was about half way through and she was in last place. Dr. Valbuena (Chief Executive Officer, CHASS) offered to drive her back because it was so hot that day, but she said, "Nope. I'm going to do this." And the reaction of the bystanders and on-lookers was interesting. There was a lot of buzz going around at the finish line. People were saying things like, "Oh there's this patient that's coming and she wouldn't quit." More and more people started hearing about her wanting to finish despite her difficulties. So by the time she made it to the finish line, everyone was cheering for her and it was a really moving moment. I think that made everyone feel pretty good. Dr. Valbuena and some students walked with her all the way back, and I was able to give her a hug at the very end.
What are your goals for next year?
Going forward, we plan to continue to embrace these wonderful relationships that we've been able to make through the Detroit URC. It's incredible that all of the individual relationships that I mentioned earlier, even the ones from small start up grants, have been so positive! For many of these projects, we have accomplished what we set out to do and now we are trying to figure out next steps, so that we can continue the partnership. Also, we want to continue to work on those programs. We need to find ways to make them sustainable. We need sources of revenue to not only diagnose problems, but also to implement treatments to some of the challenges that our patients face. Our patients are always at the center of what we're trying to do and learn.
What do you wish more people understood about CHASS?
I wish that they understood that we are going to take care of anybody that walks in our doors -- no matter who you are, no matter what language you speak, no matter where you were born, no matter if you have a bill or not. That's the best part of my job -- I never have to say "no" to anybody. That's the one thing that I want to share with people outside of CHASS. Our door is always open to provide the best care that we can.